Posted by Disha Singh on June 24, 2008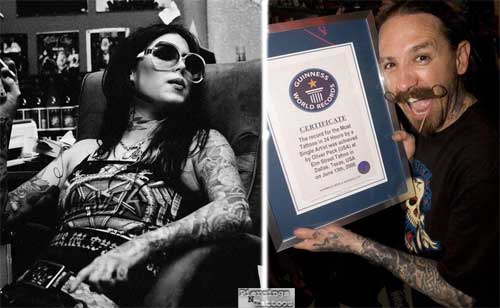 Recently Kat Von D announced that she is no longer the Guinness World Record Holder as Oliver Peck, her ex-husband, has set a new record of doing 415 tattoos in 24 hours. Last year in December Kat had done 400 tattoos in 24 hours to set a record of "Most Tattoos in 24 Hours".
On Myspace she said,

"Oliver, is owner of Elm Street Tattoo, in Dallas, Texas. He is also my ex husband. We were married for 3 years, and unfortunately parted ways about a year ago or so. But that's where the idea to set this world record originally came from. See, back in 1999 (on Friday the 13th), Oliver set out to set the record for that title, and did 320 tattoos in 24 hours, but didn't go through the proper channels to make it official, so come December of last year, I ended up setting that record (after asking Oliver)… Even though we haven't really spoken after the divorce, I am happy to say how proud I am of him for kicking ass!"
There is no doubt about the excellence of Oliver as a tattooist and he has proved it again by this Guinness Record.
Congratulation Oliver!